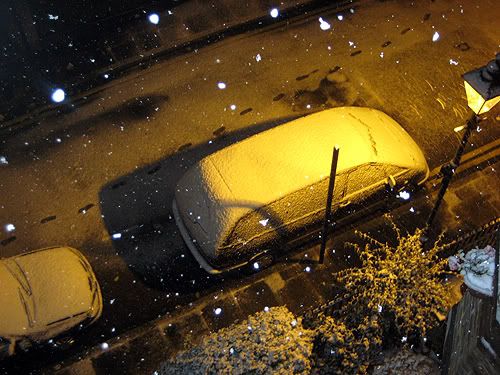 If you've been on facebook in the last half an hour you probably realise that it's snowing in London! In October. This is far from ordinary. Above is the scene from my bedroom window.
My current facebook status reads:
Natalie figures she's not wearing her new suede boots tomorrow after all.4 minutes ago
Suede boots are probably not snow day attire. Suede boots with 3.5 inch heels, definitely not. Incidently when my flatmate ran into my room and told me to look out of my window, I was trying to get on BBC Weather to see if I would be able to wear said boots tomorrow. It is not abnormal for me to check the weather the day/week before an occasion, I am definitely an outfit planner and lay out-er. Is this what everyone does or is it just me?!
Luckily the 'crisis' has been averted, I have found a replacement outfit to wear tomorrow as I turn 20 something again and it goes with sensible boots suitable for snow. BUT having just checked BBC Weather again, there is a big sunshine next to 9am tomorrow. There is hope for the suede boots yet. I blame global warming.