On arrival at the Bora Aksu show at Somerset House, it seemed that proceedings were running much more smoothly and on time than earlier in the day, but once inside the BFC show space chaos ensued! The paparazzi were going crazy for a celebrity line up which included Twiggy, Marina Diamandis and Jodie Harsh and when the plastic was finally pulled back from the catwalk, there were people literally sitting, crouching and standing in the aisles!

The collection entitled Angel & Fiend, despite being mostly black and varying shades of grey (apparently inspired by the streets of late 18th Century east London) left me with a more than mild obession with the apple green colour which highlighted. As always my favourite pieces were the androgynous menswear inspired looks - loose tailored trousers, broad shouldered 80s style shirts, bow ties and tailored jackets. Also loved the leather piping details, heavy cording, plastic 'armour', layering of sheer and solid and mixing of textures.

It amazes me how many people leave the show notes behind because there is often so much to a designer's work that can't be seen from your seat. For this collection Bora Aksu took inspiration from Jekyll and Hyde and I was really interested to read about the hidden details in the garments such as a 3/4 length coat which unfastens to become a cropped jacket.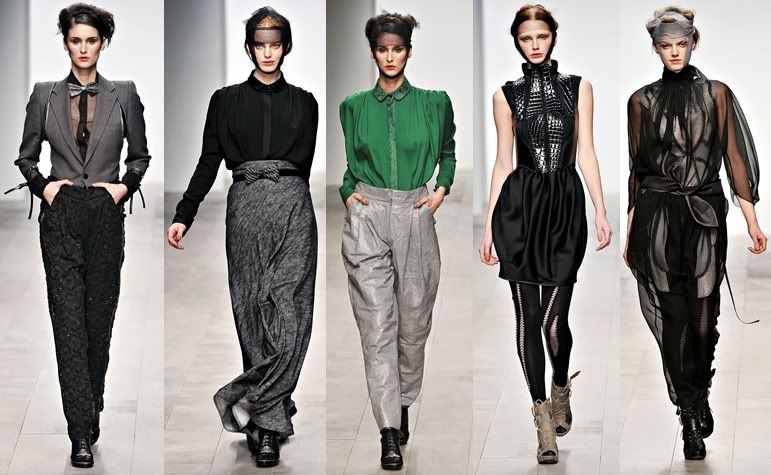 Images from Vogue.com

Marilyn Manson's Sweet Dreams was a fitting soundtrack to the second half of the show as was the 'army of models' finale.

Tried to get a decent pic of this girl sitting front row with possibly the best dip dye hair I've seen. If you're going to do the ombre/dip dye trend why not go all out?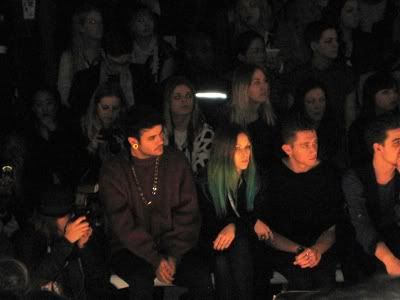 It fitted in nicely with the colour pallette of the show too. Speaking of which I painted my nails in Barry M 'Spring Green' in homage and really hoping these brogues in my ASOS save for later come back into stock soon!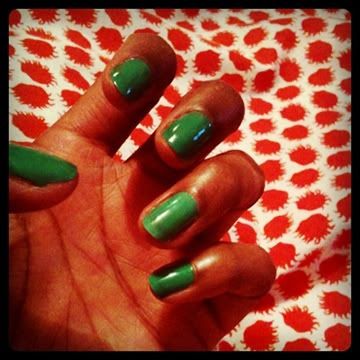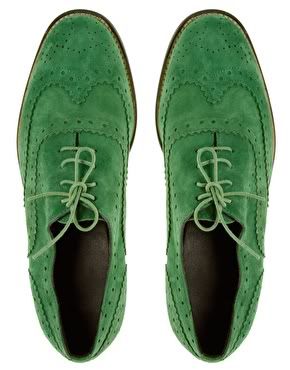 Image from ASOS.com