My colleagues tease me about my 'saved for later' list on ASOS.com which contains well over a hundred items (not including things which are in there twice in difference sizes/colours). There are definitely more than a few things in there I'll never afford, but I like to keep them in there just in case I win the lottery or something. Plus it's a nice visual reminder of the look I'm feeling for, for the season. Here is a selection of my current picks: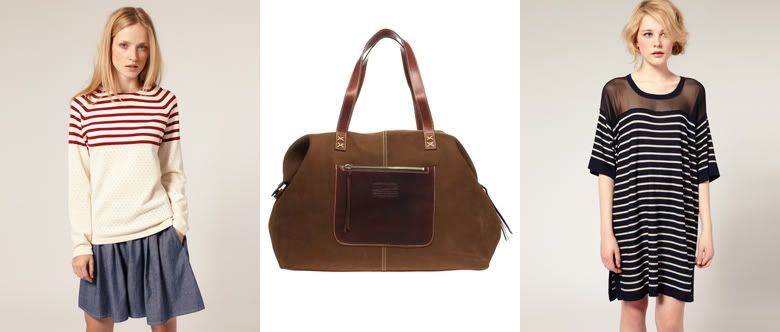 YMC Perforated Stripe Crew Neck Knit
As if I need anything else striped in my life right now, but I love the perforated detail.
Pendleton Drifter Leather Holdall
I dream of owning a gorgeous holdall like this so I can swan off on weekends away with my capsule wardrobe enclosed. (Currently I stagger off away with a pull along case with a broken zip and numerous extra bags full of 'things I couldn't fit in the case but definitely maybe might need').
Sonia by Sonia Rykiel Striped Wool Dress with Sheer Panel
More stripes? I don't know if it obvious from my blog how many breton stripes I own/wear, might have to do a post on the subject soon.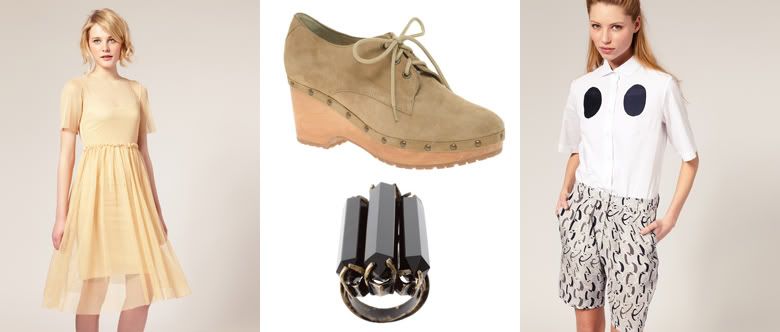 ASOS String Waisted Midi Dress
I love this dress, but I need to be wearing it with sandals and socks. We have sun, now we just need heat...
Opening Ceremony Suede Lace Up Clogg Shoes
The perfect mid heel summer shoe
Low Luv x Erin Wasson 14ct Gold Plated Triple Bar Crystal Cocktail Ring
In Paris I lost my favourite ring I bought in India. It was unique and irreplaceable, but this would help me get over it.
Peter Jensen Rabbit Eye Shirt
Even though no one would know they were rabbit eyes, I WOULD KNOW.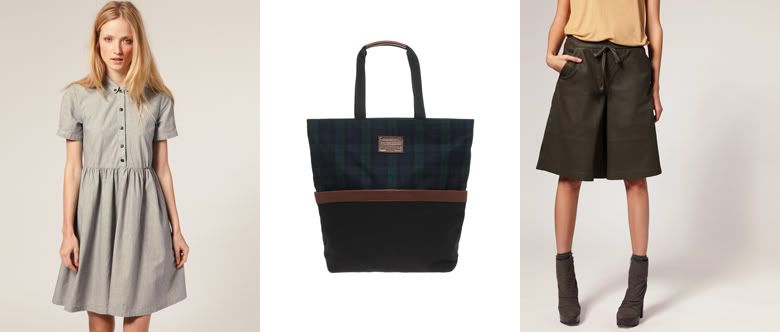 YMC Button Up Smock Dress
This is the sort of thing I would live in all summer. And would be perfect with the aforementioned Opening Cermony clog shoes and Emma Nissim socks from my previous post!
Pendleton Shopper with Check Design
Love the check. Love the chocolate leather. Love Pendleton.
ASOS WHITE Leather Culottes
These are 20% off right now, but I cannot buy ANYTHING until pay day when they will probably go back up in price. Such is life.