It's that time of year again, time to think about the Christmas party. This year's theme is Masquerade, we are only required to wear a mask and dress as we please - the more decadent and elegant the better!
I am feeling decidedly uninspired by the Christmas dress offer this year, probably because I was working on evening dresses several months ago and therefore nothing on the high street looks new to me now. I am craving muted florals, denim all in ones, coral and new neutrals inspired by the SS09 shows (in particular Preen, Alexander Wang and Charles Anastase). And seeing S/S press days in the last week has not helped one bit.
But back to the task at hand, I have decided to delve into the back of my wardrobe this year for my party outfit and will resurrect a tutu skirt first and last seen on New Years Eve nearly 3 years ago. I have almost decided that I'm going to stick with 'festive' black, perhaps some gold accessories and let the mask do the talking.
I wanted to make my mask, but time is running out. I have my eye on
jewel coloured feathers
in in Angels, but if I had the time
Nick Knight's Moet Tribute
would be my inspiration: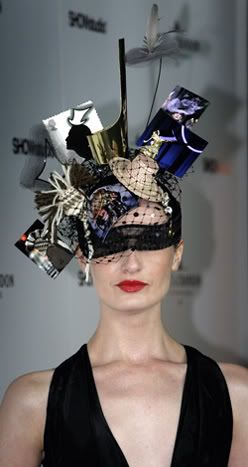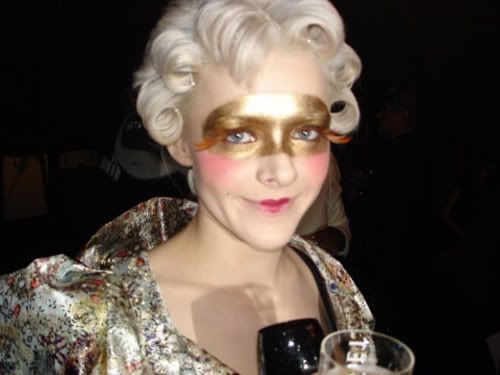 This final one is one of my favourites for its simplicity. Sadly given that I will be getting ready for the party with about 150 other ladies, sharing two bathrooms and roughly two full length mirrors between us, I can't be too ambitious. I'm probably going to be doing my make up in a hand mirror and simultaneously answering my last few emails, drinking champagne as well as trying to be an active member of the social committee and ensuring all for the night goes to plan. I am however, entering the foray of fancy dress this Saturday night. I am entertaining the idea of Zorro (theme: heroes and villains) though my costume has yet to come to fruition, but some kind of mask and eyelashes combo could definitely be on the cards. Photos to follow I should think.
photos from getty images and showstudio.com